I had been late on this meme from Kalyn (bowing my head in shame), although I had been tagged since early this month. I am really sorry Kalyn, it just had been a busy month with Christmas and new year approaching. I had written it long time ago but have yet to complete it. I will update this post when I finally get the rest of the pictures together, which was the main source of this late post.
Now on to my top 10 favourite food:
Chocolate
Every woman's secret vice. Chocolate is known as the food for Gods since ancient times and it is not a wonder why. Chocolate is one of my comfort food that bound to help most of the time. Whenever I'm down, chocolate is needed to lift me up and when I'm happy, chocolate is needed to share the joy. So, basically I need chocolate all the time. Naughty me! For me, the darker the chocolate, with richer cocoa taste the better! I eat chocolate anything, from plain chocolate to chocolate cookies to chocolate cakes to hot cocoa to anything! I just have yet to try mole, chocolate with meat, which one day I must!
Cheese
Need I elaborate more on this milky goodness? Yes I do. I had mentioned that it had been J's weakness; well I must admit it does have quite an effect on me too. I love it in both sweets and savouries. I bow to cheesecakes; I love a thick carbonara anytime and whatever cheesy, you name it.
Milk
I would need a glass every morning (or the time I wake up) to start my day. I had been having it since my pre-school days up till now. Nothing beats fresh milk and now for me, fat-free milk.
Egg
It is the most versatile food I have ever known. If you're lazy, just fry it and you will have a sunny side up. Or just whisk it around and fry it plain or with anything else that you want. One of my favourite ways is fry it with long beans. Not too sweet and with the right crunch compare to the eggy texture. You must try it if you get your hands on long beans, and I'm sure you have eggs at hand! Besides, eggs are the base for most delicious desserts isn't it?
Vegetables
Oh, I do eat my greens. When I was young, I refuse to have anything green into my mouth but not anymore. I learn to love my veggies since quite sometime ago. Not only nutritious but it is actually really delectable. Cooking each veggies the right way would make it interesting. But somehow, I love the way we Chinese like to cook it; stir-fry it with some garlic, dashes of soy sauce and chicken/vegetable stock if you're lucky or water if you're not. Rest assured, it is one of the best way to enjoy your veggies!
Soup
Ah, one of our Chinese secrets! As I had mentioned, our Chinese soups are blends of the most natural tastes of the ingredients meld together into something really wonderful. One of my comfort food I might say. When I was young, I love to drown my rice in soup and then eat it with dishes; in fact it can even be a complete meal itself. It was Ah Ma that had brought the love of soup to me, and now I must pass it on! Do try out our various soups and indulge in the wonderful flavours.
Sushi
My housemates and I simply adore sushi! When we had the opportunity to eat out, we would pretend discussing where to eat but in the end, we would end up in a sushi bar. In Malaysia, it is either Genki Sushi or Sushi King for us. These are sushi cheap-eats for us but then again, who are we to complain. It still soothes our cravings for some raw salmon and some sweet rice.
'Bun' (Vietnamese Rice Vermicelli)

It is not the usual buns but rather it is actually rice vermicelli. Bun is served cold with fresh vegetables, juicy meat and 'cha gio' (springrolls). I would always hop over to Vietnam Kitchen (One U) for my fix of bun when I'm looking for a wholesome and fulfilling meal. To know more about what bun is all about, hop over at Fine Cooking.
Mexican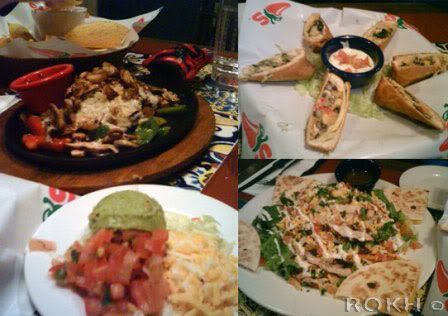 I love Mexican food for its complex blends of spices and tastes. I loved chillis (which I did for my birthday, will share it one day), tortillas, egg rolls (simply adore these), fajitas, quesadillas and tacos with salsa! Now I am craving for some!
Seafood
Oh how can I leave out this wonderful food? When there are spreads of seafood around, I go week at my knees. This is no exaggeration! I absolutely adore crabs and shrimps. Then there are the fishes, plain ol' fishes plus much much more ranging from mussels to squids to clams to oysters. What an indulgence.