Due to popularity of the chee cheong fun thread, and the ever so interested people in PJ/KL who wanted to try the sort-of-like-Taiping-taste chee cheong fun in Seapark (that I mentioned in the comment). I managed to dig up the old pictures of when I ate there, though bad in quality as it is taken in haste and not for blog quality. But still, I'm sure those interested will go seek out the 'real' look and of course 'taste' themselves.

Anyway, this shop, judging from the picture, I guess it's called 'Kedai Kopi (coffee shop) Khoong', or there could be a word behind. Yes, you can see that it is written Kampar fish ball below, which is actually the specialty there (Kampar is well known for its fish ball noodle). But now, the main attraction for us would be the chee cheong fun! Yeah, I heard resounding cheers from you guys 😉
Alright, I should stop being long winded. Here is how this chee cheong fun of sweet sauce looked like: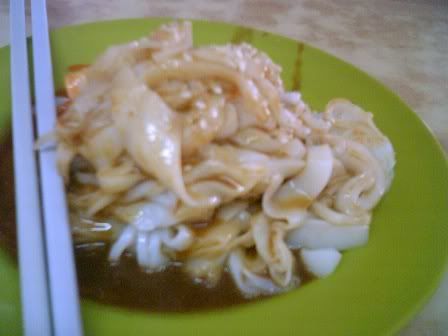 First of all, I must warn that it is not totally the same as the one from Taiping, tastewise and also look, judging from the previous post look. But it is the sweet sauce type, with very good sauce too I might say, and it does taste with high similarity to the one in Taiping, less red visually, but still good eats (I've been a fan of Alton Brown lately) and of course, different from the one in PJ/KL.
Here is the couple that sells the chee cheong fun, don't miss them as their stall is just a long table, located at the back of the shop. I have a feeling they have been selling here for years!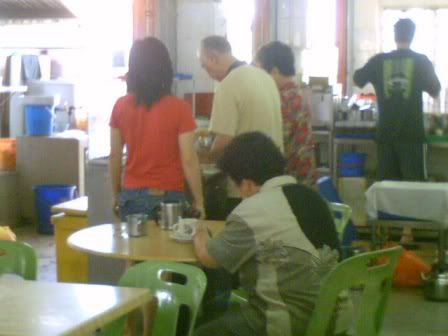 Of course, since I'm reviewing on this shop too, I might as well mention the Kampar fish ball noodle, which is also very good. It tastes just like the small-town-kind-of-food, if you know what I mean. Like in Taiping, the chicken broth is simple, not laden with MSG or spices, just nice and a little bland (my accustomed taste) to go with the homemade fish balls and noodles.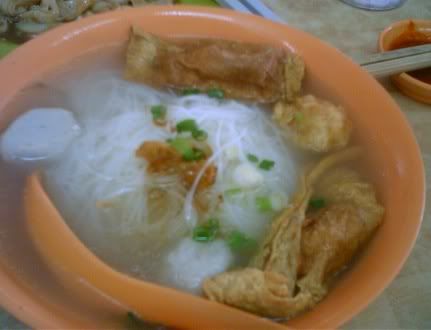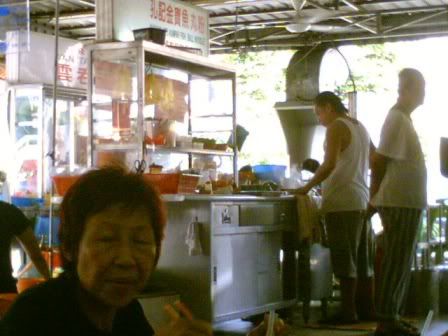 When I come here for breakfast, all these is only available in the morning, if I'm not wrong as I have only been here twice and in the morning, it always makes me feel I'm back at home, with the simple home cooked style kind of food. Now I miss home!