I am again late for this New Year entry. I said again because I seem to be always fashionably late for entries. I hope Cooking Diva would pardon me and give me a chance to join in the New Year's Dinner & Recipe Photo Swap, which seemed so much fun! One of my New Year resolutions from this entry onwards is not to be late anymore! I had been late all my life.
I did not get the entry in early enough because the owner of the camera, my friend, who had not sent me the pictures yet! Well, I had to fill in and post up the preparation for my chicken first. The rest of the readied yummy food will follow, by tonight, hopefully. I swear to wring my friend's heart out if she does not send me the pictures tonight.
New Year started for everyone and a new semester started for me. Well, after enjoying, playing and of course cooking and baking for whole three months, it is time for me to settle down and do what I need to. I will still be posting for sure, but of course, much shorter ones. I love to write, but time is always the limit. I love to research and share knowledge with the world, but again, time and resources is limited.
This year, I celebrated with J in my friend's place. There is not much variety of food but yet all of it is scrumptious. We had catered for the spaghetti bolognaise, which was rich with chicken stock, not the usual tomato-ey fare but still very scrumptious. Then we had a local flavour of Char (fried) Chee Cheong Fun, which is basically large flat rice noodles rolled up. The usual fare is to serve these with sweet or spicy sauce but as usual, Malaysian loves to fusion recipes to make it our own. If I am not mistaken, these are originated from Hong Kong, commonly known as Cheong Fun. For this Char Chee Cheong Fun, it is actually frying the Cheong Fun like how we would for Char Kway Teow, literary also fried flat rice noodles. Then there was the potato salad, made by my long time friend from Taiping, which was really delish. I had requested recipe from her and of course would be sharing with you guys then. I could not possibly keep good eats to myself, can I? Then there was also some fried frozen nuggets and popcorn chicken. Dessert was canned sea coconut (sleeve palm), yes canned, according to my friend we are suppose to relax and enjoy the New Year, so no working our neck out. After roasting 30 chickens, I could not have agreed more with her. As for me, my humble contribution to the party was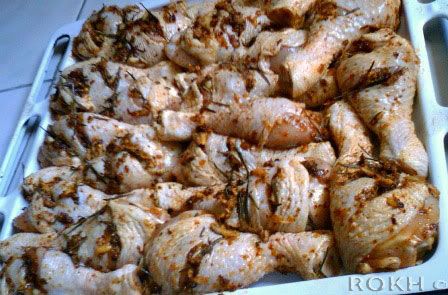 Roasted Rosemary Paprika Chicken

I adapted this dish from a cookbook, but as the usual me, I had trouble following recipes diligently, especially when it comes to cooking. Baking, I might still be a good school girl and not bold enough to twist recipes, but cooking, ah, we Chinese cooks by feel and taste. Try getting recipes out of seasoned Chinese chefs and they would be telling you like, throw in a little of that, then a lot of that, a bunch of this and a handful of that. It is then up to you to improvise, judging for what you had eaten. Usually, it is easy, if you had been eating it most of your life.
As for this recipe, after much tweaking, I find the taste slightly too mild. Maybe I was looking for punch on the spice. Luckily it was saved by the rosemary. I used fresh ones, which does make a lot of differences from dried ones. I pounded the spices on my good ol' pestle and mortar which I loved a lot. It was from my nanny, a small one but well seasoned. If you do not have one, then just grind the ingredients, but be careful not to make it into a paste.
There was a tip from the cookbook which said that roasting chicken in a non-preheated oven produces crispy skins. It was a little crispier then the previous ones which I roasted after preheating, but I still prefer the method of browning it first before roasting, which produce not only crispier skin, but also more delicious looking roasted chickens. Alongside, I had also roasted some carrots, shallots and whole garlic cloves tossed with olive oil, pepper and salt.

30 drumsticks
Pound/grind:
12 garlic cloves
3 tbsp of paprika
2 tbsp of hot chile pepper
5 sprigs of rosemary (stripped)
2 tbsp coarse black pepper
3-4 tbsp of olive oil
Juice of 2 lemons
Salt to taste
Put together ingredients and pound/grind the spices together.
Clean the chicken and cut out visible fats. Then score two huge slits on the thick part.
Rub spices onto the chicken, and try to stuff those yummy stuffs into the slits.
Line up drumsticks on roasting pan.
Squeeze lemons all over chicken.
Slice the squeezed out lemons thinly spread all over the chicken.
Put it into the oven and left to marinate for 2-3 hours.
Sprinkle salt over the chicken.
Roast chicken in 200C/400F/Gas 6 oven for 1 – 1 ½ hours.
The cheering continues here.