L came again and saved this blog of mine from mediocrity. I always longed to cook, experiment and blog again but I guess time is not on my side. Besides, food for the week had practically been 'ta-pau'ed (packed) from my cousin's housewarming since Sunday. (Yes, we packed a huge amount of leftovers). Then there was some little cooking here and there. I made cheese steak and oyster tomato soup for Valentine, but was too tired and did not have the time to take picture. The steak was good; I planned to do it again one day and then blog about it.

Well, as for now, enjoy another round of L's eating adventure about a very popular dish, char kuey teow (stir-fried flat noodles), which is known to be the best in Penang, hers is a lightly revamped version being a wet one. Sounds kinky eh?
The debate raged on which food we should proudly proclaim as the Malaysian national food. The nominees had been roti canai, nasi lemak and char kuey teow. All three nominees are distinctively Malaysian, each one originated from the three main races in Malaysia, with roti canai an identity to the Indians, nasi lemak, an original Malay cooking and the hot from the wok, char kuey teow of the Chinese. What truly make these food truly Malaysian is that it is consumed by all races and that recipes had assimilated among the people here, sometimes giving a new breath into the menu altogether.
Sany Café, located in Jalan Sungai Dua, right opposite USM is a popular restaurant among students here. Everyone seems to only come here for the char kuey teow or more popularly known as 'Kuey Teow Basah (wet)'. I was introduced to it late last year when my friends and I went there for supper. I though the dish was like any other kuey teow served in soup, but I was surprised to find out, it is actually char kuey teow served with a lot of gravy.
I was since hooked and always went back for more. Patrons may need to order the large one as the regular one is always too little to satisfy your taste buds and what more, after a long day of classes, you would need more of this delicious dish.
Kuey teow basah is pretty much like the usual Chinese char kuey teow which is usually fried with eggs, bean sprouts, cockles and prawns. The crucial difference is that, like its name, it is served soaking wet with its gravy. People told me, that what makes it so sinfully delicious is that instead of using plain water for its gravy, the cook uses the water that the prawn comes soaked in. It does sound unhygienic, but hey, that's perhaps the whole selling point of kuey teow basah.
Being Malaysian is truly a blessing. Because when cultures assimilate, the food just always turns out better.
Sany Café
Jalan Sungai Dua,
(Opposite USM)
11700, Gelugor
Penang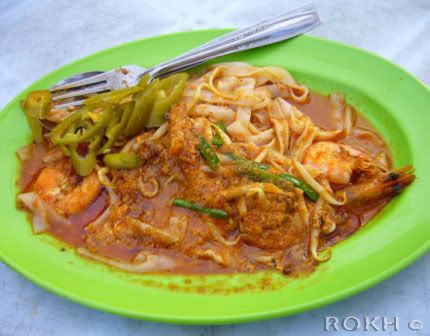 Char Kuey Teow (Stir-fried flat noodles)
I noticed I had not been sharing enough recipes nowadays, and so I thought of putting a char kuey teow recipe up, which I always wanted to try but have yet to. Take note that this is the usual dry version, unlike the one L had reviewd. This is from Gina, founder of Kitchen Capers, and I'm sure, since it's from her, it is going to turn out well and be really delicious. By the way, I heard that the real secret to a tasty plate of char kuey teow is by using lard oil and adding pork lard. It lends a delicious crunch and a distinct taste! I will try it once I have the time. In the meantime, if you did, let me know alright?
Ingredients:
1 kg kuey teow (white, flat noodles)
300 g bean sprouts
200 g tiger prawns
200 g chicken fillet (parboiled in hot water, shredded)
2 stalks of spring onions, chopped (white part only)
2 tbsp Sweet Black Sauce
1 tbsp Fish sauce (or Light Soya Sauce)
1 tbsp Dark Soya sauce
5 tbsp corn oil
1 tsp chopped garlic
200 g fresh cockles (optional, if unavailable in your country)
Method:
In a wok, heat 1 tbsp corn oil and add garlic to stir fry.
Mix all the sauces together.
Add to the noodles and stir well to mix.
Add remaining 4 tbsp of corn oil to stir.
Add prawns and chicken, bean sprouts.
Add 20 ml water and spring onions. Stir to mix.
Lastly, add fresh cockles and briefly stir for about 2 mins.
Turn off fire.