Yesterday was the day I'm supposed to stay at home and hit the books. My final exam is just around the corner, and I have yet to start on my revision. It took me whole day to really start firing up. Once a while I would sneak into the net and surf the food-blogosphere, to torture myself with all the yummy food out there. I stumbled upon a recipe at Jennifer's blog, Fallen Souffle, which immediately made me think of J. Yes, you got it right, to think of J, it has to be of cheese and something cake-like. His secret vice. It was Jennifer's quick and easy Mini Cream Cheese Tarts that had caught my attention.
J and I were both "studying" at our own home, and only to meet at night. Besides the though of rewarding him for his hard work, I also remembered promising him a cake since it had been a long time he had indulged. We nearly went to a local cake shop few weeks ago, but it was too late and the shop is closed for the night. Thus I promised to make for him next time. So here is how I came up with my slightly tweaked version, which I called the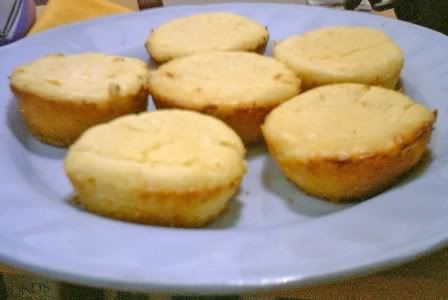 Cream Cheese Bites
I changed the recipe a bit to suit my taste and my pantry of course. First, I used considerably lesser sugar because I do not want it too be too sweet, it might drown the cheesiness out. Then, since I do not have any wafers, I decided to use the idea of regular cheese cake base, by crushing up oats crackers (this was what I have in stock, you can use anything else, like maybe the usual digestive biscuits), and then press it together as base. Lastly, I do not have any tangy jam to put on top of my cheese bites so I forego it, though I really think it would had been a really nice addition. After baking, the cheese bites puffed up, with one cracked up, and then when taken out, it fell a little. Be careful when removing it as it is really soft right out of the oven, which I had disfigured some of it.
225g softened cream cheese
½ cup sugar (or less)
1 egg
1tsp vanilla essence
6 oat crackers/biscuits
Preheat oven to 180C.
Coarsely grind oat biscuits till grainy, then press it into the muffin holes. (I used the back of a glass to compact it)
Then, cream together the cheese and sugar.
Add egg and vanilla essence, mix till incorporated.
Spoon onto the prepared oat base in the muffin tin.
Bake for approximately 20 minutes until set.
Allow it to cool down and refrigerated for better taste.
Then munch on!