Back from missing in action. Chinese New Year had been a blast this year. As usual, I will be back in my hometown, Taiping and celebrated with family and friends.
As I am getting back on track from my holiday mood to my working routine, time is slipping away pretty quickly. As for now, I'm leaving you guys with pictures of the wonderful tummy-filled CNY celebration that I had. Enjoy!
Pho Pho (mum's mother) shredding the pre-soaked black fungus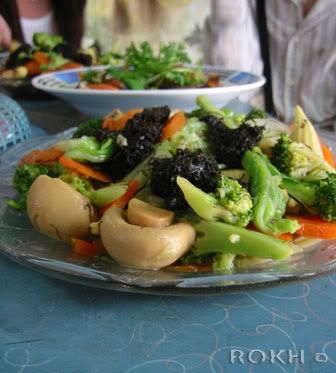 Loh Hon Chai (Fried Mixed Vegetables)
My absolute all time favourite Jiu Hu Char (Stir fried shredded Cuttlefish with Yam Bean)
Another Stir Fried Mix Vegetables with Chinese Mushrooms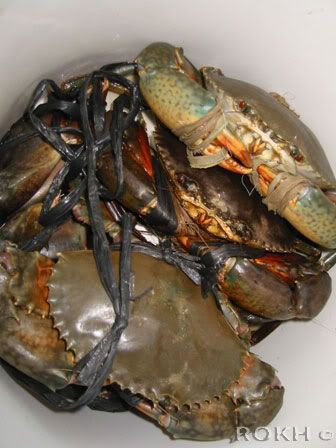 Live crab waiting to be cooked. We Chinese only eat the freshest from the sea.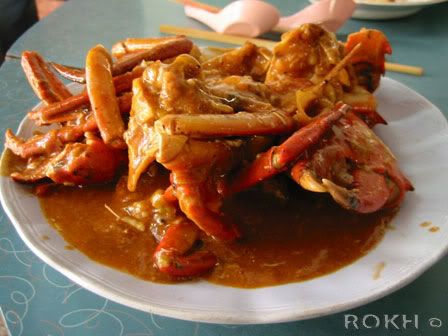 Cooked Crab in Tomato Sauce, a little kick from ginger, spring onion and chillies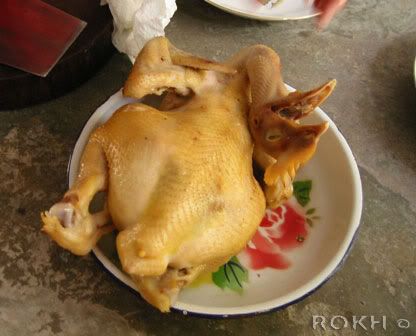 Steamed chicken, a must have for every Chinese household on reunion
The steamed chicken chopped and served sprinkled with chinese parsley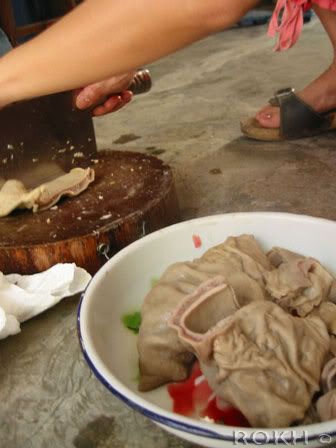 My aunt chopping the boiled pork tripe from the soup to bite sizes
Taking out the steamed fish (fresh from the sea too)
Pho Pho enjoying the food while waiting for the fish to steam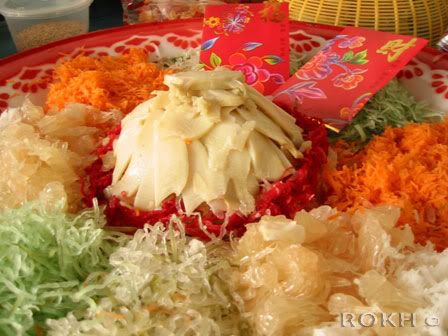 Yee Sang – We have it every year over at my mother's side, whenever we can meet up either the reunion day or Chor Yat/Chor Yee (first/second day of Chinese New Year). This Yee Sang of ours is self made, with the carrots and radishes freshly sliced thinly (no shredding as it will sweat too much) and then Pomelo freshly shred to pieces. The hues of greens and beige stripes are papaya pickles. In the middle is our main ingredient of the dish – abalone slices. The red packets contained Five Spice Powder and crushed peanuts ready to be sprinkled over the Yee Sang later.
Once ready to serve , crispy dough crackers are scattered all around the dish. Next the spices and peanuts are sprinkled over follow by pouring of plum sauce over it. We would then gear ourselves with chopsticks and then simultaneously toss the Yee Sang all over. As belived, the higher you toss the better. We usually end up with bits and pieces on our hand due to the crazy tossing by everyone.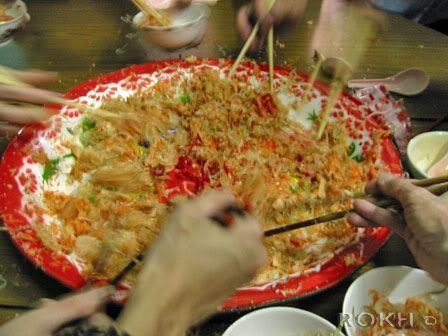 Then all of proceed to scoop everything out onto our bowls and devour it. We would of course aim for the abalones but at last, we would end up distributing to each other anyway. The Yee Sang definitely tasted good, with fresh ingredients, right plethora of tastes of sweet and sour plus right textures of soft, chewy, crunchy and juicy all together. I looked forward to it every year. If you want to know more about this, Foodcrazee have an extensive information on his own deconstructed Yee Sang.
Overall, a lovely Chinese New Year, with jeans a little tighter, wallet a bit fatter (from all the Ang Pows), heart a little fonder and of course, smile a little wider!