I have nowadays succumbed to cook in daily since I have my classes and all. If I have the chance, I would cook both lunch and dinner. Admittedly, it is always alternate with leftovers, covered by a new dish, which would end up as leftovers. But once we got the hang of what can be kept and what not, cooking for small amount of people gets easier. I do not have the luxury to cook for a family of 5 or 8 (yes, I consider that a luxury) but I sometimes cook as if I do. J even says that I am crazy. Once I cooked cauliflower curry and it lasted us for five days! Of course not for every meal, but good enough for us to swore it off for a while.
Anyway, it had been quite sometime since I share some recipes worth for "exploring my origin" project. I do most of the time cooked Chinese at home, but most Chinese cookery are pretty simple and in terms of 'agak-agak' (estimation). As I have said, we Chinese cook on the whim. When we feel like it we add it, when we taste it with our little fingers, oh yes we Chinese are resistant to heat, we would just add whatever our taste bud tells us to. I have countless times seen my mother's mother, Pho Pho, did the finger thing. She can easily dip in her finger to a boiling liquid and taste it right away. Of course I've tried it a couple of times and burnt my tongue without fail. Maybe one day, when I have cook countless Chinese cuisine, I might just be able to act like a seasoned Chinese cook.
The dish that I am going to introduce today is of Teochew origin. As I had mentioned that I am from a Hokkien dialect, Teochew is another one in our numerous Chinese dialects. They used to say that Teochew are considered Hokkien as well. This is because the Teochew are once Hokkien people, migrating south from the Fujian province to eastern side known as Chaoshan. After some influence from the Cantonese and Hakka, they evolved into a separate dialect.
As Teochew people are also quite abundant in Malaysia, we are very much exposed to their cuisine. Teochew cuisines are well known for seafood and vegetarian dishes. They are also in some way like the Cantonese cuisine, cooking with less flavouring thus enhancing the natural tastes of food, while relying heavily on freshness of ingredients. When I go out to eat in Chinese restaurants, I had a few times tasted a very fine Teochew cuisine, which is their steamed fish. I had tried it in many outlets, though it varies a little, but the main ingredients are there and the taste, are simply superb. If you have the freshest of fish, it would certainly be a heavenly dish.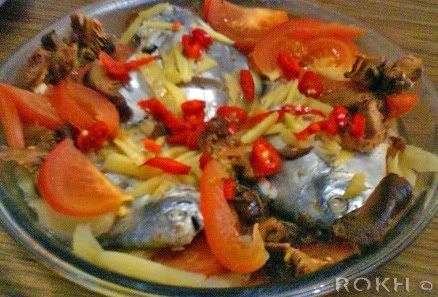 Teochew Steamed Fish

I had used white Pomfret for this dish but had found those large meaty Grouper fishes I had in restaurants are better cooked in this style. It is because in this Teochew way of steaming, one would end up with a pool of wonderful sour-ish soup from steaming the fish which is really good to lap up with big chunks of fish meat. It is to be warned that this 'assam' (tangy) taste soup keeps one hungry till the end of the meal. You just can't get enough of it.
I had modified a recipe from the trusted Amy Beh at Kuali. Her recipe uses sour plum, which I do not have in hand, thus I substituted with some tamarind slices (assam gelugor) and tamarind paste, which I have in hand all the time because it is used in various dishes, such my Ikan Assam. The result is as close to those out in the restaurants, though it varies a little, but still like I say, superb.
3-5 white Pomfret/ 1 large Grouper (cleaned and gutted)
Ingredients:
50g salted mustard greens (soaked and shredded)
3cm piece ginger (finely sliced)
1 tomato (cut into thin wedges)
2 black Chinese mushrooms (soaked and sliced thinly)
Mix:
1/4 cup water
1/2 tsp sugar
2-3 tamarind slices (assam gelugor/assam keluk)
2 tbsp tamarind paste
Garnishing:
1 red chilli (cut into strips)
1 stalk spring onions (cut into strips)
1 sprig coriander leaves (chopped roughly)
Method:
Make two cuts on each side of the fish. Rub lightly with salt and pepper.
Put fishes on a metal or heatproof dish and scatter salted mustard green, mushroom and ginger slices on and around the fish.
Pour in the water mixture onto the fish and arrange tomato slices around fish.
Steam fish over rapidly boiling water for 12 to 15 minutes or until the fish's eye popped out. (This is an indication that the fish is cooked.)
Garnish and serve the dish steaming with hot soup!
Serves 4