This is one birthday post after another. What does this represents? On flip side it meant I am slacking in my post, on the other good side is that my life has been real rich, full of celebration and happiness.
Before this I was in a midst of writing a heavily-emotion-laden post, but I got a writer's block. I could not seem to convey all my feeling into the post as I used to always can. Has something gotten into me? Or is it just writer's block? Or is it an occasion blockage due to overdose of changing, celebrating life and dreams that are piling high?
Anyway, since my brain is clogged, I shoved that post aside to draft and instead post up event instead. I would keep this post simple as well as fun as how it should be for it is a birthday post for J. Yes, it was a year since my bake out for J, and as a quote runs dry due to too many usages, I would still say that this time I am too busy to actually cook or bake anything. Thus I make a mental note for myself; I can and should cook regardless of the occasion whenever I had the chance.
Anyway, J treated his family to a lovely dinner at Tai Thong, where we filled our tummy to our hearts' content.
First up was the stir-fried kangkung (water spinach) with belacan. It was up to par with the usual Chinese eateries out there but the price was a tad bit ridiculous, above even meats.
Then it was the wu tau kau yok (braised pork belly with yam slices). What makes this dish special is the presents of nam yue (fermented red bean curd). I can't seem to find more description of it, but let's just say, it has an unique taste and it gives dishes pink hues. This wu tau kau yok is a dish where either you love it or you hate it. For me I used to dislike it, but now, the taste had somehow hooked on and thus, become a favourite of mine. The version here in Tai Thong was good, really home-cooked type. I'm not too sure though the origin of this dish, not Cantonese I suppose as my Ah Ma did not cook it, certainly don't have those criterias. This dish is definitely not light literally or in spices term.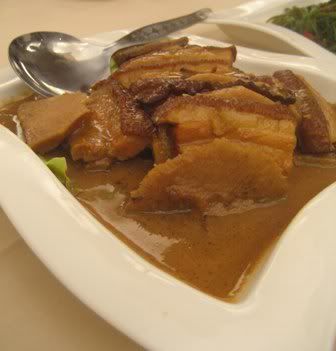 Anyway, next up was the yu pin chow keong (stir-fried fish slices with ginger). This was my favourite dish, as I love ginger (maybe unconsciously had cheered on due to fact it's expelling air properties, which was usually what I need most). Besides, the fish slices was smooth and sweet, the ginger was just enough with the spring onions. Absolutely delish.
Then it was we also ordered claypot taufu with minced pork, nothing too spectacular but still delicious.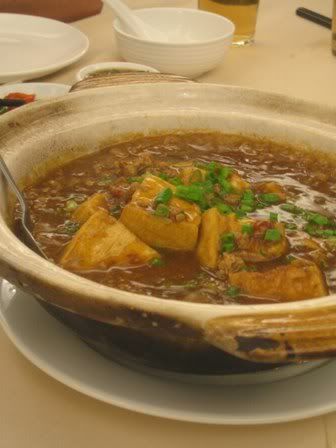 Besides this we also had nam yue pai kuat (fried pork ribs coated with fermented red bean curd). Nam yue again, you might ask, but it was nowhere similar to the wu tau kau yok, still with nam yue taste but definitely more prominent and just that. I had this dish elsewhere which was better and crispier. We also ordered Mooncake at the end as our dessert, as now mooncake is full of varieties due to research and development here, this one was a twist from the traditional flavour, snow skin beans with mashed egg yolk. I forgot to take picture for it, thus I took the liberty to cut out the picture from the website, please do not sue me. This mooncake was good, smooth filling, not too sweet and just enough flavouring. This is also the ping-pei type (chilled soft skin), in oppose to the baked ones.
Overall, I would say Tai Thong offered worth the money for the food and the atmosphere, but they seriously lack in their service part. So if they buck up on this area, it would be a really good place for family celebration or gatherings.
Summer Palace Chinese Restaurant (Damansara Utama)
101, Ground Floor, Wisma Dijaya
Jalan SS20/1, Damansara Utama
47400 Petaling Jaya
03 7726 8616
Mon – Sat
11.30am – 2.30pm
6.30pm – 10.30pm
Sun & Public Holidays
9.00am – 2.30pm
6.30pm – 10.30pm
Anyway, back to J. It is after all his birthday. This time, as I had said, I did not cook or bake. So where is the cake? Well, I wanted to get a special cake (as well I confessed that it fits well with my last minute buying), so I bought these cakes, yes cakes, from Secret Recipe (a well known cake house and café in Malaysia, more to that next time).
Isn't it lovely? Well now everyone can taste a bit of everything, I tried to get all cheese cakes for it was J's favourite, but I sneaked in a chocolate one (think of the love affair) as I could not resist and also not to forget it's famous Chocolate Banana Cake, which J also likes very much.
I thought I said this would be a short post, well I guess my (tham jiak) brain start working again when it got to food. Nontheless, with tummies filled and sweet teeth satisfied, overall it was a good celebration, wouldn't you agree?