This month, Alberto's IMBB and Jennifer's SHF are having a joint event this month which is the virtual Cookie Swap! This is indeed a rare event for the union and coincidently it is my first time joining in both of these sensational events. Lucky me, as this would be an easier entry for me to handle both events in one!
After reading about this cookie swap, it just struck me to share to the world something traditional and truly Malaysian. I believe no other cookie fit into this description more than the famous Pineapple Tarts (or rather pineapple cookies).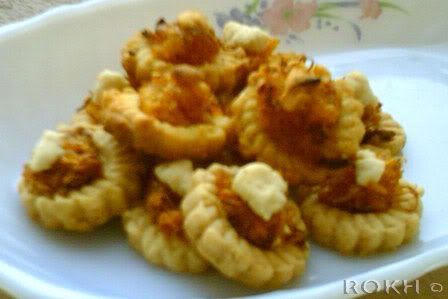 These cookies are a must in most festive seasons in Malaysia especially Chinese New Year, which is a celebration of a new year according to the Chinese calendar. There are many ways shapes these Pineapple Tarts are made, either open tart shape (the one I made), roll up shape, ball shape, pineapple fruit shape or even most recent creative ones with cartoon icons. These cookies are usually served during CNY because in Chinese Hokkien dialect, the word pineapple (Wong Lai) has the same meaning as the 'coming of prosperity'. Therefore they are considered auspicious cookies.
This had indeed been my all time favourite cookie during CNY celebration, and I can never keep my hands off them. I have heard various comments on how tough it is to make it but also how it these homemade ones can never ever be replace by those commercial ones. Therefore, I roll up my sleeves and brace the challenge for the world to share in this local joy of mine. Enjoy.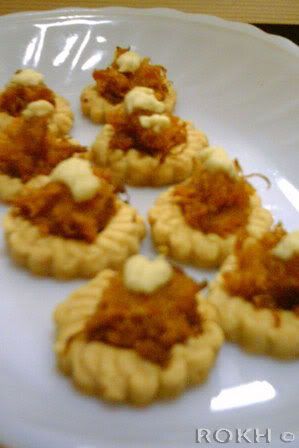 Pineapple Tarts
Making these cookies prove to be no easy feat as it needs extra attention and long hours at the kitchen. After making these, I now know why it cost a bomb to purchase it outside. I first made the fillings, where in the original recipe it calls for stirring continuously for 2 hours at the stove! I found it a crazy feat. So I decided to use my non-stick pan and just stir it occasionally while I prepare the dough. Do not worry if the pineapple fillings seem dry at first for it will sweat once you add in the sugar.
I love the kind of melt-in-the-mouth cookies to go with these but had failed to achieve it. This I suspect was due to over baking, where my first batch was slightly over browned in my naughty mini oven (the ever so famous) because I was busy making another batch with the cookie cutter and failed to monitor it. While another huge batch, I tried it with my gas oven (a huge oven of mine which is attached to the stove and uses the gas as heating element) which even after long time of baking, the cookies are still pale looking which ended up drying the pineapple filling instead. Next time, I should just stick to my mini oven and diligently watch over it. I found the baking time and heat a little too much from the recipe, therefore I changed it in the following recipe. I also find that, while cutting out your cookies, chill the remaining dough in the refrigerator for easy handling. Do not roll out the dough too thin else it would not stick to the cutter making it impossible to remove it nicely.

Pineapple filling:
2 med size pineapples, grated & drain off juices, retaining a bit of moisture
2 star anise
1 cinnamon stick
Sugar to taste (bout 100g)
Method:
1. Remove skin and black eyes from pineapple
2. Grate pineapple and squeeze out the juice.
3. Put pineapple into a non stick pan and cook.
4. Stir occasionally for about an hour.
5. Gradually, add sugar and cloves.
6. Cook for another 30 minutes or until it is dry and sticky.
Pastry Ingredients:
283g cookie flour (red rose flour)
28g sugar
184g butter
1 egg
Pinch of salt
Method:
1. Sieve flour, add salt and sugar and mix together
2. Rub butter into flour (use your fingers)
3. Beat egg lightly and add to the flour
4. Knead into a soft and sticky dough and leave it in the fridge for at least 1 hour.
5. Roll pastry to 1/4 inch thickness and cut out with cookie cutter.
6. Fill pineapple filling onto the cookie.
7. Bake in oven at 190 C for 15 to 25 minutes till golden brown.
Makes bout 75 auspicious cookies (if you can resist popping it into your mouth)

Update:
Check out first half of result at Domestic Goddess
Don't miss out the second half over at Il Forno