I had many wonderful childhood memories with my father's mother, who I called Ah Ma (Grandma in Hokkien). For one period of time, when I was 5, Ah Ma stayed with us in our rented house back in Taiping. That time, was when I had many quiet evenings with Ah Ma after my nursery school everyday. I still remember at one point of time, she was really into knitting, and would be sitting by the sofa everyday, knitting away. She would knit scarves, jacket and gloves, which she said is for my aunty and uncle away in Australia (we would never dream of wearing those in Malaysia's hot weather, which would spell madness). I would usually sit by, just staring at her fascinated for hours. In due time, my impatience grew, and Ah Ma know she got to give me something to do or else I would not stay put. She gave me a knitting kit myself plus a block of wool and taught me the most basic in knitting. I set down to do my own version of a scarf. Well, I could not remember finishing a decent one, but little did I know, 7 years down the road, I would consult her again to refresh my memory and knit a scarf for my school project.
Then other times, when it was not knitting season, I would sit around listening to her talk. She taught me a lot of things, from general knowledge to stories of yesteryears. I even remember that I learnt to read the time from Ah Ma. For one, Ah Ma is very much educated unlike most old people here. I did not mean that old people here are uneducated, it is just that most of us Chinese here, at that time, does not have the luxury to get proper education and mostly would be working since young to feed themselves, like my mother's mother who came from China. This is mainly because Ah Ma was born in a rich family and had proper education up till she was 12, where the war started and her whole family was forced to hide in plantations. From there, she had continued to read and learn herself. For a grandmother from her era, she can practically read any English book, watch documentaries and converse in it fluently, much to amazements of my friends. This is also partly because she is still quite young as she got married to my Ah Kong (Grandpa in Hokkien), when she was just merely 17.
From the stories I heard from her and also my dad and aunts, I had gather a pretty thorough life story of Ah Ma. Ah Ma is a first born in her family, and had been pretty bossy since young, acting as the big sister. She took care of her lot of young siblings and had assumed whole authority when the women and children had sought refuge in the plantations during war time. After that, peace came and the whole family moved out to town again (Taiping) and so happened she stayed right next door to my Ah Kong. Little did she know she would be marrying her neighbour, one of the richest man in Taiping, at the tender age of 17
My Ah Kong is another remarkable man. When he was just in his early twenties, his brother passed away leaving behind four children. Being a compassionate man, Ah Kong took them as his own kids and raised them the best he could. At that time, he was just venturing into tin ore business and he had already decided in his heart to just concentrate on career and treat all his nieces and nephews as his family. By the time he was nearly 30, he had became one of the most successful man in business. At that time, tin ore business is a flourishing in the rich soils of Taiping. So after being really stable in his business, someone decided it is time he thinks for himself. Therefore, he was introduced to the girl next door, my Ah Ma, and then, to make an arrange marriage short, they got married.
Back to my Ah Ma, just imagine, at the age of 17, she was all of the sudden, married to a rich man and not only that, became a mother of four pretty grown up children. She could even be their sisters, but no, Ah Ma is more than that. For a young girl, she was pretty tough, trained from being a big sister since young, she assumes authority in the household quickly and took care of all the young ones. She then bears my Ah Kong, seven children all together, two daughters and five sons. It is a wonder how last time people can handle so many children altogether. I guess my Ah Ma had a big heart, as in overall, she would be giving love out to 11 kids now. According to Dad, Ah Ma treated them real strict, unlike how she had treated the 4 children earlier. Maybe it was her motherly instinct kicking in. Dad said, all of them would have to sit down to do their school work every night after dinner and no noise is allowed. By 9pm, all would have to be in bed and no objections allowed. Of course when they grew up, my Ah Ma tame down, don't they always do?
As a grandmother, Ah Ma is a real softie. She had never once scolded any of her grandchildren and with her big heart still, she showered all of us with love. Once a while she does give some advice but she never nags for long. She had even taken care of my cousin brother his whole life, because his mother was away working in America.
Ah Ma cooks really good home cook food, we all says our home cook food is the best, and I guess it is true in our very own way. Food laboured with love is always the best. I am really lucky to be able to enjoy her cooking, as we stayed next to each other in Taiping, after the shift from the rented house. although she stopped cooking daily since my teens, for my uncles all objected it and wanted her to "heong fook" (which means enjoy prosperity) instead, she did whipped up some of my old favourites occasionally. One my favourite for all time is the Pork and Potato in Sweet Dark Soy Sauce. Oh, I must make it again, the way Ah Ma would, another worthy "exploring my origins" project. Ah Ma is not the type to cook fancy food. Her cooking style is in some ways like her roots, Cantonese, which is famous for simple yet delicious food. Cantonese people are good in bringing together simple few ingredients that complements real well and thus showcasing the authentic taste of each ingredient. It is never laden with spices, mostly just soy sauce or salt, as most flavours comes from the main ingredient itself. As far as I know, our famous Chinese soups mostly originated from the Cantonese who had brought together wholesome ingredients and brew to fuse all the wonderful flavours together which are light but a delight to the palate. It is from Ah Ma that I learnt to appreciate simple food, and I am really accustomed to food that is bland. When I go out to eat, I sometimes find food too salty or too sweet or too pungent. But of course, I still enjoy flavorful food laden with spices like the Indian and Malay cuisines, and some other more adventurous Chinese cuisines/ But when I seek for home cook food, I always crave for the simple fare of Ah Ma's cooking.
Ah Ma had came a long way since, and now, as the oldest in the family tree, she is really well respected. During Chinese New Year, all relatives will gather at her house without fail. Every year, on the first day of New Year, her house would be full with relatives from far and wide, her brothers and sisters, her cousins, her four step-children and her own children, which all bring the next generations and some even with the following generations. Ah Ma had just become a great grandmother last month as my cousin; the first boy in the family just had a new born baby girl.
During the weekend, I had went back to celebrate Ah Ma's 80th birthday, which was attended by relatives from near and far, even my aunt, uncle and cousin from Australia came back. We occupied about 3 wedding sized table, accounting to more than 30 people. What a bash it was and my dad had ordered nine dishes all together (which we found out that it was just too much later) and it was certainly a wonderful tummy-rubbing feast.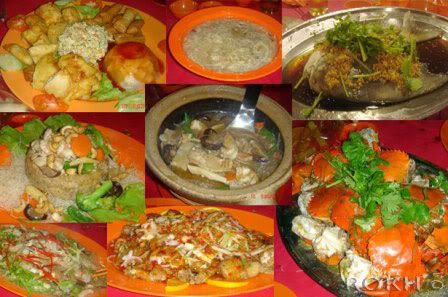 I had mentioned earlier that I would be baking a cake for her, which is non-dairy as Ah Ma could not stand butter or milk or cheese. Thus I decided to go on a quest to make a cake she would not only be able to tolerate; it would be one she would enjoy. After some tweaking, sweating and praying, yes I did, I had finally came up with a cake for Ah Ma: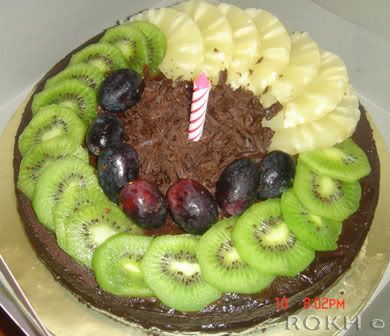 Chocolate Blueberry Cake with Chocolate Soy 'Ganache'
A fellow cooking friend, C, from KC, recommended black forest Cake that she had just made. Looking at her delicious looking cake, I decided to give it a try. I saw the absence of butter but it called for whipping cream, which I'm sure, is a no no for Ah Ma. C had suggested non-dairy whipping cream but I'm not too keen as the look itself would still deter Ah Ma from trying it. Thus I tweaked the recipe a bit. Well actually a lot. I practically changed the whole thing and only used the basic chocolate cake. I had substituted black cherries with canned blueberries and forego the whipping cream altogether.
It was my first try at whipping the egg whites and I had troubled whipping it to stiff peaks. I was worried I might over whipped and thus ended up under whipped it. In the following recipe, I had added extra instructions in whipping the egg whites and how to incorporate the ingredients, a tip I learnt later from C. It was still bit runny but I gave up on it and use it anyway. This resulted in a disastrous not-fully-risen cake. To make matters worse, I had overlooked the recipe calling for 8-inch pan and had used a 9-inch one instead. Now you can imagine how short the cake it. Nonetheless, I persevered and sliced it anyway and sandwiched blueberries in between. I got a crack at the top of the cake, which C had also experienced and I had thought of a sly way to hide it. I sliced the cake into two, and put the cracked slice face down at the bottom instead and top with the other better looking slice. How would this affect the cake I'm not sure though, but if any of you do, please let me know. Anyhow, it solved the ugly part, but somehow it still lack the lustre of a cake fit to cater for a birthday bash.
After some head cracking, I had decided to do a 'ganache' for the cake. But of course, this would mean I need whipping cream again, thus I substituted and used soy milk instead and somehow came up with a spreadable cream which frosted the cake pretty well. Then back in Taiping, I rushed to the supermarket and got myself fruits to decorate the plain top. Should had gotten the strawberry instead as the canned pineapple was dull looking, much to my horror when I open it and I found that I overlooked that the dark purple grape would not stand out against the chocolate cake. Anyhow, my relatives were all very supportive, they said it looked wonderful and they ate it up with a resounding yum. I guess there were just being nice, as for me, I found the cake a bit tough, due to poorly risen, but other than that, it tasted great and no one realized the absence of dairy or the presence of soy. Even me. What a healthy alternative to a decadent looking and tasting cake.

Wet:
4 egg yolks
40g sugar
1/4 tsp salt
1 tbsp brandy
85ml corn oil warmed (I used EVOO)
25g cocoa powder
135ml warm water
Dry:
125g cake flour
1/2 tsp baking soda
1/2 tsp baking powder
4 egg whites
1/2 tsp cream of tartar
50g sugar
Filling:
1 can blueberries (bout 500g)
Ganache:
150g dark chocolate
4-6 tbps of Soy Milk
80g shaved dark chocolate(I did mine with a knife on a block of cooking chocolate)
Fresh fruits
For the base:
Mix the A well with a hand whisk
Next stir in cocoa powder into a warmed oil (I used the microwave) until dissolved and then pour into wet mixture.
Stir warm water into the mixture.
Next, sieve the dry ingredients and then stir into the wet mixture.
Whip egg whites in a mixing bowl until bubbles form. Add in the cream of tartar and whip until white. Then divide the sugar into 3 portions and add one at a time slowly into the egg white while whipping. Whip until stiff peak.
Pour some of the egg white into the mixture, incorporating it with a cutting movement of a spatula.
Pour in the rest of the egg white and mix till well blended.
Pour batter into a clean 8 inch baking pan.
Bake at 175C for 45 minutes or until the tester comes out clean.
Remove from pan and let cool on the rack.
Cut the cake into half.
For the ganache:
Put the dark chocolate and the soy milk in a microwave proof bowl and microwave on medium for about 4-5 minutes.
Then stir to incorporate.
Add chocolate if it's too thin or add soy milk if it's too thick and microwave a minute more. Stir.
Next spread out the blueberries on top of the bottom half of the cake slice.
Top up with the other cake slice.
Slowly spread the ganache onto the cake with a spatula.
Freeze till harden and then return to chill overnight.
Decorate with fruit slices as deem appropriate.(Strawberries would look good, and don't get dark coloured fruits as it would drown on the dark cake, oh I nag like an Ah Ma)
Make a good 8 inch cake
(or a short 9 inch- which actually served more people, *laughed evilly)