KC is someone I might say I get to know due to fate. When I first came to KL to study, I came with a 1984, and then we bunked in a Convent senior from basketball team, temporary until we find a place to settle on. Then, KC was my senior's boyfriend, therefore we get to know each other. From there, after shifting, we sort of keep in contact loosely until I shift over here to our place now, he so happen to have broke up, needed a place to shift and voila, he became our housemate once again.
As a friend, KC is amazing. He will do anything at all for his friends, always there whenever any of us needed help. He took care of me and my fellow 1984 housemate like sisters, protective and loving. We three in the house had once even named ourselves family.
Well, last monday was our dear KC birthday, I had decided to bake him a cake, although I know he does not really like one, but well, what's a birthday without a cake. So, as I had put it at the weekly drools for so long, I decided to make Swee San's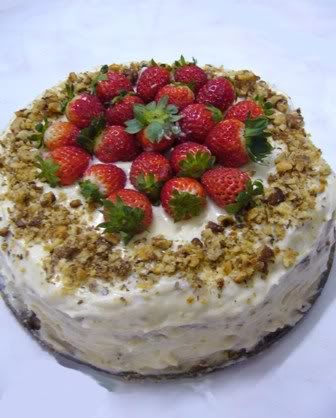 Carrot Cake with Cream Cheese Frosting

I made a few changes due to the unavailability of some stuff, and also due to a hunch to make things come together after certain changes. Ah, you bakers out there would understand.
At first look of the recipe, I had decided that the amount of sugar is too much, so I cut down quite an amount, and besides, we could not get white sugar in Tesco, imagine that, so we bought more of the brown sugar. I warn that even my amount of sugar is too sweet to my liking. Cut down more if you don't want to have diabetes. Since having more brown sugar than white (in oppose to original recipe), I worry it would be too wet, thus I mixed all-purpose flour to the cake flour, in hope to make it drier, tell me if I'm wrong. Then, as Swee say, the corn flour addition is to make the cake fluffier and softer; I'm getting texture crazy here. I had also change the cream cheese frosting bit, since I don't have enough butter, I added more cheese, partly also because I love cheese, so I want it to be more cheesy.
Anyhow, a few flops happened. First after baking at designated time and the toothpick came out clean in the middle. I took it out. Once cool, I remove from pan and found the sides all sticky and gooey and superbly sweet. All the sugar somehow formed a candy there. So I cut the sides all off and made a mess, with craters here and there. One lesson learnt: ONLY cut the cake once it is completely cooled! Then another mistake came with my impatience. Once the cake is semi-cooled, I attempted to frost the cake, partly because I'm impatient and partly it is late and I just want to get it done with. That is when disaster strikes. The frosting started melting as I starting spreading it. It became too hard to handle, steaming down the side. Second lesson learnt, ha-ha. I stopped at once, salvage what I can back to the rest of the frosting and chuck it into the fridge. After chilling few hours (yes I have yet to sleep), I frosted it with more luck, but sadly found the frosting with residue of icing sugar. Sigh; there goes my first cake frosting.
Ingredients
1 cup vegetable oil
500g brown sugar
200g coarse sugar
3 eggs
3 cups sliced carrots (2 large or 6 medium)
1 ½ cup coarsely chopped/bashed walnuts (roasted in 200C for 10minutes)
Sift:
1 cup all-purpose flour
1 1/2 cups (375g) cake flour minus 1tbsp
1tbsp corn flour
2 tsp baking powder
1/2 teaspoon bicarbonate of soda
1 teaspoons mixed spice
Method:
Preheat oven to 180-190C
Grease deep 23cm (9 inch) round loose-based cake pan (line base with baking paper if you do not have loose-base one)
Beat oil, sugar and eggs until thick and creamy
Transfer mixture to large bowl
Stir in carrot and chopped walnuts
Then mix in sifted dry ingredients little by little till incorporate
Pour mixture into prepared pan, bake in moderate oven about 1 1/4 hours
Cover cake loosely with foil halfway through cooking
Stand cake 5 minutes; turn onto wire rack to cool.
Spread with cream cheese frosting and decorate as desired.
Cream cheese frosting:
25 g butter
120g cream cheese, softened
250g icing sugar mixture
Method:
Beat butter and cream cheese until light and fluffy
Gradually beat in icing sugar bit by bit